Horrific picture from Larry on ADDN: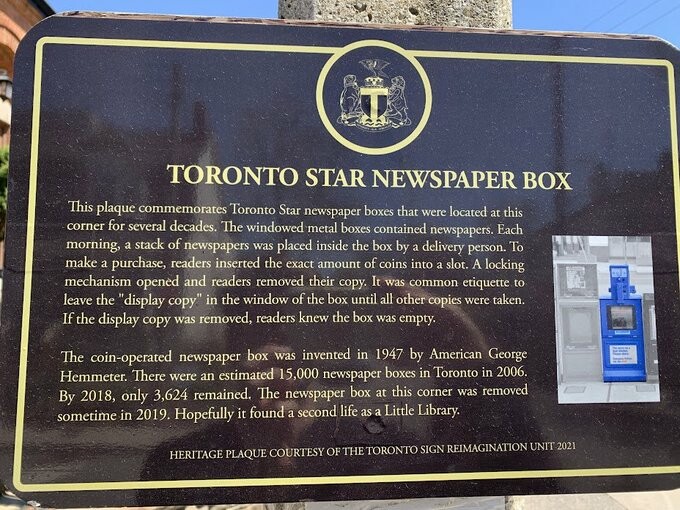 Now I'm wondering what other kinds of infrastructure of my yout' no longer exist. Growing up there were always old-timer stories of "oh we used to have horses and play hoop-and-stick! A live theatre show cost a penny!", but they never had useful tech and then lost it.
Mentioned earlier today: Party lines. Rotary phones. Phones only owned by Ma Bell. Landlines. Telephone girls.
Newspaper vending boxes, probably all owl nests now. Newspapers; I used to get a weekly big city paper, alt press paper, and sometimes a daily trash paper (USA Today & the like, for mediocre perspective, and I could do the crossword in <30 minutes). Print magazines, used to be the monthly delivery of all information. Books. I say I'd miss books, but honestly I buy only ebooks now, I have thousands of books in my iBooks & Dropbox, a much smaller physical bookshelf now.
Card catalogs are gone. I spent so much time with a little golf pencil, index cards, and flipping thru the catalog looking for a book, writing down Dewey numbers, then go hunting the shelves. Microfiche. Reference/research librarians. Libraries are under attack from the usual suspects aka the GOP, maybe they won't make it.
Vinyl and cassette tapes have made a temporary, improbable, and really stupid comeback, but once the fad ends they'll vanish forever. SONY MiniDisc. 8-Tracks. Reel to reel (had a brief fad again after Pulp Fiction). VHS (a few online art projects like FORGOTTEN_VCR and RedLetterMedia's "Best of the Worst" aside). I have to check if my VCR still works.
Do you even know how to be kind? R E W I N D
DVDs. There's just streaming you can't even keep, and Blu-Ray with parasitic Java programming, you can't just watch a movie without it spying on you online.
Television. Apparently there's still non-streaming, "cable" and "over the air" (but digital, not analog signal), constantly NCIS and "reality TV" with ads every 10 minutes selling laxatives, painkillers, and Gold Bond Medicated Powder. But that can't last long, all the Boomers will be dead soon and nobody else cares. Projected movies. Plays in theatres. Vaudeville. Nickelodeons (not the kids series).
Videogame arcades. Pinball machines. Computers that boot up instantly and are useful when you turn them on.
Radio. It's just right-wing hate speech radio, and a few oldies stations. And "oldies" now means "greatest hits of the '70s, '80s, '90s, and today" as one near me says; but don't worry, they don't really play anything past 2000. That's a biz model headed for death. Radio dramas have been dead for 70 years. Rock & Roll has been dead a while, there's still old bands playing it, but not many new.
Malls. If you can order everything online, why go "shop" and maybe hook up with a cute person?
Schools are obviously a bad idea. Chalkboards are gone; nobody's beaten erasers or choked down chalk dust in years. One-room schoolhouses died out when schools became about training industrial workers to sit down and take it, and now we obviously can't cluster up kids. Individual education, or none at all, just like in the dark ages.
Work offices are going to be gone soon. It's easier to deliver to customers (using underpaid gig workers, or soon drones), and work from home with chat and videoconferencing.
Trains and trolleys are long gone, except as tourist attractions. Once the schools and offices remove the need to drive around a city every day, it's gonna get awful quiet. No more cars, highways, streets, street lights, skyscrapers, planes. Ships are probably still needed to deliver from factories to target continent. Zeppelins could make a comeback, they use less fuel.
The Earth will go dark again. Little campfires as we all live out in the boonies with a single glowing rectangle or a cable into our skulls. Global economy reduced to swarms of drones delivering goods from robotic factories, until the owners, now on Mars, shut them down and all the lights go off.