I went in on the Call of Cthulhu 2E kickstarter and they finally got the box to me.
What's in the Box, What's in the Box?
It is tightly packed.
The dice they include are kinda crap, sub-Chessex dark sparkly things, but that's expected. Instead get some good dice, GameScience or precision metal dice, OK?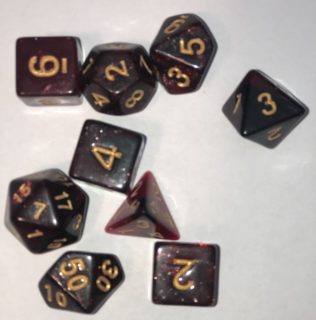 The world map is fantastic, very thick paper, map of Arkham on the back. There's an all-new Keeper's Screen, which seems entirely useful, tho it's 3 landscape pages, not 3 portrait like my usual Wall of Fear and Ignorance. A new size comparison sheet, 4 pages across now, everything from Mi-Go to "Mighty Cthulhu". 4 old-style character sheets, hardly enough for the casualty rate you're really gonna have.
Main book (96 pp) and 1920s Sourcebook (36 pp) are stapled up like the originals. Treat gently, but it'll lay flat. Gene Day cover & interior art looks great, not the usual low-rez scans printed out badly. It looks as good or better than it did 40 years ago.
I suppose now I should've got the Deluxe box, I have those extra 5 supplements in some form but not in these nice reprints.
Over the days to come I'll read the books in detail again, and get to run it sometime, but I'm so happy just to have the right edition.
Cthulhu and Me
I've been playing & running this game since the early '80s, discovered H.P. Lovecraft almost simultaneously with the game. Over time, I came to appreciate Lovecraft, Robert E. Howard, Clark Ashton Smith, and earlier writers, far more than the mid-century ripoffs and wannabes like August Derleth and Lin Carter, and only tolerate some later wannabes like Brian Lumley (and certainly Mike Mignola uses a lot of Mythos in Hellboy, but it's a very different thing). There are good later Mythos writers, but few and far between. Obviously Lovecraft's personal beliefs were pretty offensive early on, and while he got less awful later on (post-New York), he'd be an asshole in modern terms… but he wasn't modern, he's dead, and the books are the books.
There's a new 2-volume collection, The New Annotated H.P. Lovecraft, by Leslie Klinger. I highly recommend these. I don't have an equally good CAS or REH recommendation right now, but maybe in time.
Call of Cthulhu, for all that it has some flaws, does a remarkably good job of simulating the horror stories of a depressed New England lunatic who sees monsters in everything, and the monsters do not care that we exist.
So that's the good part.
CoC then and much more so now, has a lot of Derlethian nonsense in it, waving Elder Signs around like crosses at Dracula, Greek/Persian "elemental" magic and demons and gods interested in Humans, all that bullshit. There's been some attempts to remove that, and Chaosium has stolidly ignored them and added more crap. The last edition of CoC I liked at all was 5.5, and 7.0 is very different in some annoying ways. It's gone from a small game to a big game, bloated up like late-model Elvis. I just wanted that original, fairly svelte game back.
There's other issues. Sandy Petersen, game designer and devoted Lovecraft fan, shares some of Lovecraft's pre-New York personal beliefs, and adds all new bigotries of his own. So I'm ill-inclined to give him money for anything; this was almost a ransom. Now the thing I want is in my hands, I can wash my hands of him forever. The new Chaosium's lawyers and delusional "open (but not really) license" BRP, I want to stay as far away from as possible.