In the distant future of 2015… after the Second Impact in 1999… SIGH. Those seemed like plausible "future" times when this came out, really.
Netflix defaulted to JP/subtitles for me, but I tried the EN dub for about 15 minutes. It's OK, maybe better/more literal than the old one? Nobody sounds goofy, Shinji's very mild, as he should be. But I went back to JP, at least for this first time thru. Might do a dub watch second run.
This is the Netflix English dub actors list: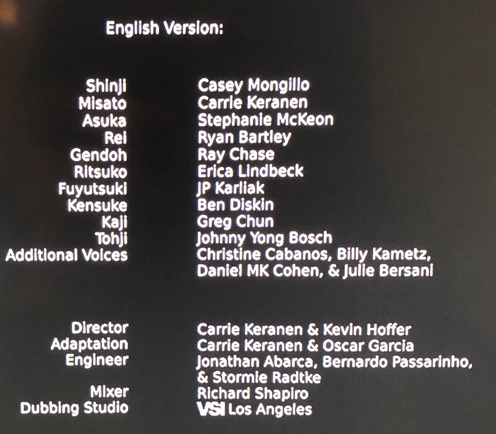 Looking some of these up, they're interesting choices. Several also appear in the new Gundam dubs. The Shinji actor Casey Mongillo being a transwoman is very appropriate, given Shinji's gender ambivalence.
It's weird that Netflix changed the "Fly Me to the Moon" cover from the end credits, it's just incidental music now. Rights problems? I never felt it was really appropriate, but I only sit thru the end credits to see the "next episode" bit, which is A) Not very spoilery, and B) sometimes contains in-jokes. "More fanservice" is not so much a joke as self-awareness; there's a lot of T&A from Misato and even scientist Ritsuko in early eps.
I am just as much in love with Misato as I was when I first saw her. When she kicks her clock and wakes up looking like a storm hit. Whoo.
Get in the damn robot, Shinji. And follow Misato's orders, ya little creep. I'd forgotten about the blackout/flashback structure of E01-02. The dumbass schoolkids are great for illustrating how weird Shinji is, but they're an annoying distraction the rest of the time, and they mostly get dropped later.
The constant SDAT rewinding of tracks 25 & 26…
Only goes up to 22, so I dunno how he's listening to the last two eps (yes, I know Shinji doesn't have the OST to his own show on his SDAT. OR DOES HE?!)